Ekphrasis, or responding to visual art in poetry, is an important literary tradition. This workshop will explore as ekphrasis as a tool to discovery and increased poetic skill. Come prepared to generate work in response to visual art on display in the ArtSpace gallery. This workshop is suitable for all poets at all levels of experience.
Instructor: Logen Cure
Tuition: Early Registration $50 (Both members and non-members before 11:59pm, October 5)
$50 (Members); $65 (Non-members)
Not a member of The Writer's Garret? Join here.
ABOUT THE INSTRUCTOR: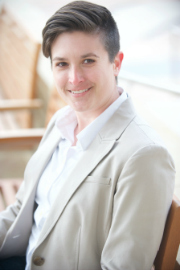 Logen Cure is a poet. She is the author of three chapbooks: Still, Letters to Petrarch, and In Keeping. She's an editor for Voicemail Poems. She teaches English at Tarrant County College and has taught several workshops for The Writer's Garret, including Terrible Poetry: Editing & Revising Your Work and Craft and Confession. She earned her MFA in Creative Writing from the University of North Carolina at Greensboro. Learn more at www.logencure.com.