SBGB awards $100,000 to local schools




Students continue to improve our community through service learning projects
The Coyote is hard to hide! On April 7th he, along with other special guests, surprised each of our five Team Up Challenge Champion schools with a check for $20,000 to continue their innovative service learning projects.

Our Champions were selected out of 20 semifinalists, based on presentations made to the Team Up Challenge executive review committee, online voting and overall commitment to making a community impact over the course of the academic year.

The 2014-2015 Champions: Colonial Hills Elementary School (Colonial Hills Giving Back), Construction Careers Academy (Parade of Homes), Highlands High School (Voices for Animals Club), Mead Elementary School (Mead Sweet Stories Mobile Library) and Stevens High School (Transformers... the Fit Falcons).

Congratulations! To see more photos from the day click here. To watch our surprise announcements click here.

To learn how you can get involved and to apply for the Summer Team Up Challenge, visit teamupchallenge.com. Don't forget - if you've participated in the Team Up Challenge before you can apply for our Team Up Challenge Junior Review Committee.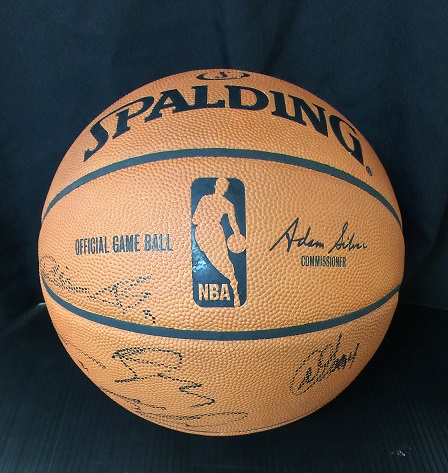 Online auction closes Sunday




Bid on unique autographed memorabilia from your San Antonio Spurs and Rampage
Our SBGB online auction features autographed memorabilia, like the giclee of the iconic Malcolm Farley painting pictured above, as well as game tickets and unique experiences from both your San Antonio Spurs and Rampage. All proceeds from the auction will benefit SBGB youth programs, such as the Team Up Challenge and the Spurs Youth Basketball League.

Visit SBGB.org to start bidding NOW! The auction closes at midnight on Sunday, April 19th.

Together we have the power to empower!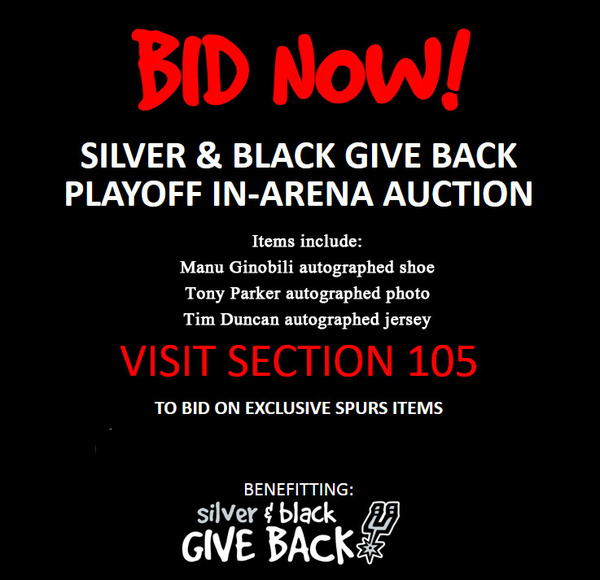 Save the date! In-arena auction April 24
Silver & Black Give Back has got you covered this playoff season! Stop by Section 105 at Game 3 on Friday, April 24th to check-out our exclusive in-arena playoff auction.

The auction will feature autographed items like a Tim Duncan jersey, Tony Parker photo, a Manu Ginobili shoe and much more!

Bidding will start once arena doors open, and the auction will close at the end of halftime. You won't want to miss out on this awesome opportunity to own a piece of Spurs history!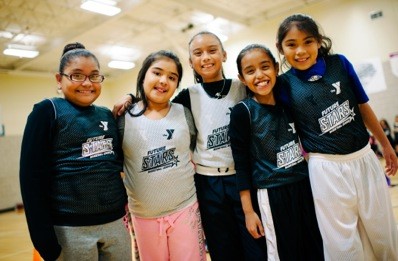 Future Stars begin play at local YMCAs
Stars season is right around the corner and girls ages 7 - 12 are warming up for the WNBA season with the Future Stars basketball league.

Hosted at several local YMCA locations, the Future Stars league works to maximize the positive effects of girls playing basketball by promoting teamwork along with individual development.

With the help of the Stars and Silver & Black Give Back and the YMCA, the Future Stars will focus on the life lessons to be learned from basketball and will work to instill positive self-image in each player.

To learn more visit SBGB.org.