Who won $50,000 from Silver & Black Give Back?

October, 2013
In This Newsletter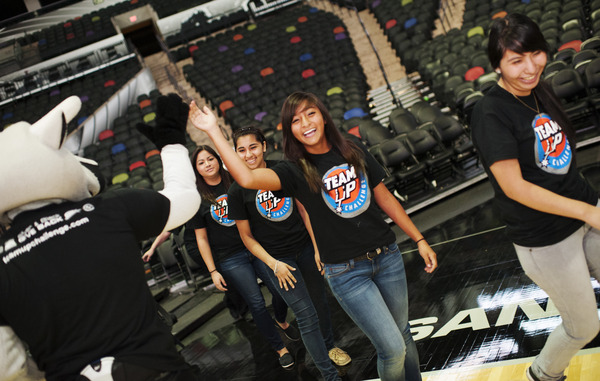 Team Up Challenge semifinalists
Students from across San Antonio given $2,500 for community improvement projects
Silver & Black Give Back took over center court at the AT&T Center on Monday, October 7th to announce the 2013-2014 Team Up Challenge semifinalists. Over 300 students attended from 20 schools across the San Antonio area.

Each class, club or team received a check for $2,500 to start their service learning project. RC Buford, President of Sports Franchises for Spurs Sports & Entertainment, gave the students an inspiring welcome address.

These students' projects fall into one of five categories: arts & culture, education, environment, health & wellness or uniformed services. This season projects are focusing on literacy, bullying, healthy living, college readiness and more. To see a full list of schools click here.
Check out our photos from the event and the video!
2013 Game Night Style Show
Silver & Black Give Back and Julian Gold show off the best styles for the season
On October 8th Mrs. Coyote arrived in style to our very first Game Night Style Show at Julian Gold. While she wore her favorite blue dress, the other models donned their favorite silver and black game night and gala wear. Proceeds from the evening benfitted Silver & Black Give Back.
Friends and supporters of Silver & Black Give Back, Corinna Holt Richter and Cari Hill hosted the fun evening. Rampage goal tender Dov Grumet-Morris spoke about his experiences with Silver & Black Give Back, and the importance of being involved in the community off the ice. While guests shopped, won prizes, and enjoyed light bites and libations, Mrs. Coyote was getting ready to kick off the style show with the first walk down the runway.

We are grateful to Julian Gold for allowing us to share our mission and to show the work of our students and student-athletes.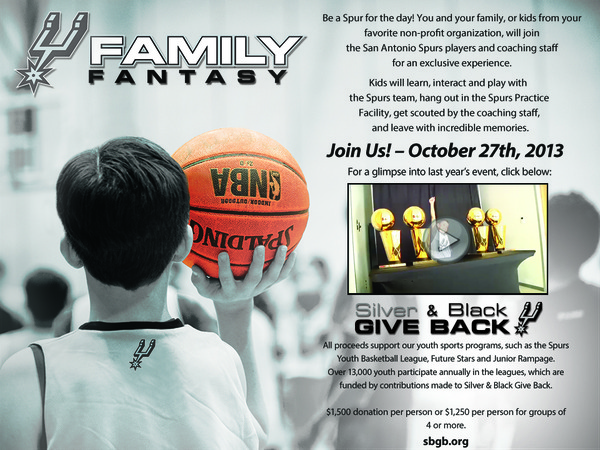 Last Call for Spurs Family Fantasy!
Only 10 spots remain to be a Spur for the day
Silver & Black Give Back invites you and your family to the Spurs Family Fantasy on October 27th from 2 - 5 p.m. at the Spurs Practice Facility.

Don't miss this opportunity to be scouted by the coaching staff, run through drills and learn tips from your favorite players, and leave with incredible memories.

To learn more contact Loretta Kerner at lkerner@attcenter.com.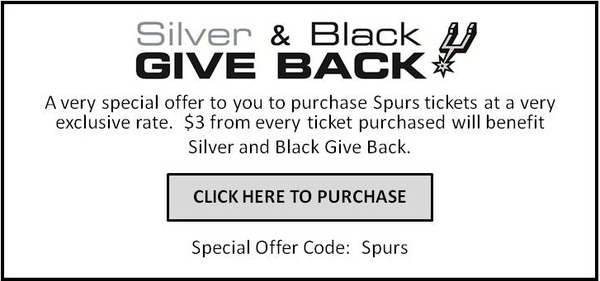 Exclusive Spurs ticket offer for you
A portion of the proceeds will benefit Silver & Black Give Back
We've got just what you need to enjoy a great night in San Antonio - tickets to a Spurs game! Get a great rate on tickets by clicking here. The best part? Your purchase also supports Silver & Black Give Back's youth programs.
In-Arena Auction October 30th
Coming soon... A Spurs season tipoff auction! This auction will feature memorabilia from your favorite Spurs players, both past and present. The auction will be held during our season opener against the Memphis Grizzlies on Wednesday, October 30th, beginning at 6:30 p.m. and running until halftime.

To get in on the auction excitement and to place your bids visit section 105. All proceeds raised will benefit Silver & Black Give Back's youth programs.