Silver & Black Give Back - Thank you for being a part of our team this season!

June, 2013
In This Newsletter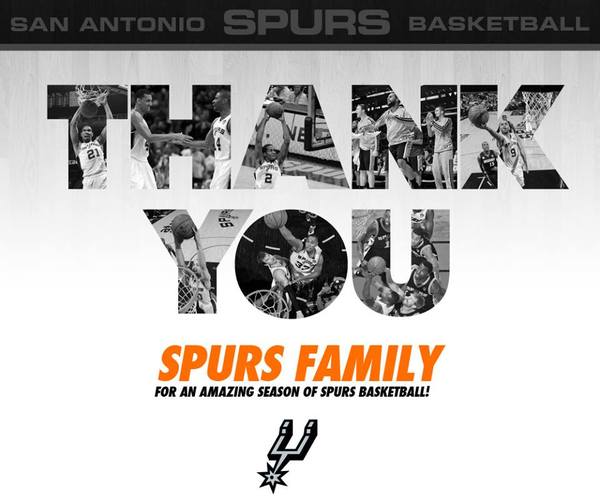 Our heartfelt thanks for supporting the San Antonio Spurs and Silver & Black Give Back throughout the season. We are so grateful to have shared this season with you.
Through your support and involvement with Silver & Black Give Back, we have been able to make a great impact on San Antonio and the larger community. You'll find a few quotes below from teachers whose students were involved in this year's Team Up Challenge.
"I think their involvement in an important community service project was awesome. It helped them become more confident and we saw many emerge as class leaders. Plus, I think kids want to be part of something bigger than themselves and Team Up Challenge did that for them." - Team Up Challenge Captain

"As a teacher, I want to know that my students will be okay without me. One day, they won't have me around, whether it's next year or when they go off to college. I want to know they will be successful no matter what -- that they can take on any obstacle. My students have become leaders on campus and advocates for higher education thanks to the Team Up Challenge." - Team Up Challenge Captain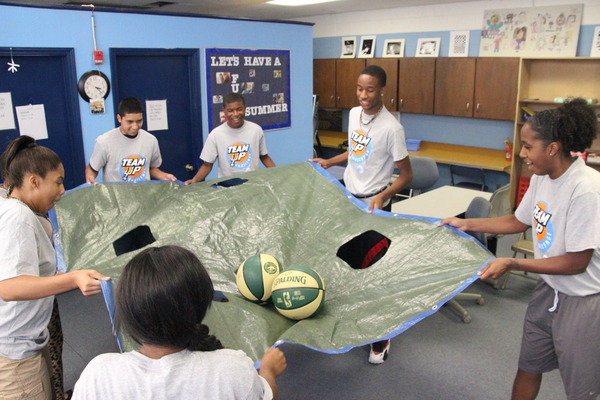 Shenise Johnson Visit Boys & Girls Club
Helps Team Up Challenge group focus on communication, leadership skills
Silver Stars' forward Shenise Johnson spent an afternoon with Summer Team Up Challenge students at the East side Boys & Girls Club with their project.

Johnson worked with the group on team building skills, focusing on communication and working together. The group talked about their personal goals for the project and their own futures, and Johnson shared her own story.

The East side Boys & Girls Club is focusing their project on education their peers about at-risk behaviors and the consequences that can come from their actions. They encourage healthy risk and a focus on the future.

To learn more about the program visit TeamUpChallenge.com.
Silver Stars Theme Night T-shirts
Buy yours before we sell out!
Get your Silver Stars shirts before they sell out. Silver & Black Give Back will be selling these two unique shirts during Silver Stars games this season.

Be sure and snap yours up so you can rock them at the Breast Health Awareness game on August 17 and at Military Night on August 31. Shirts are 1 for $15 and 2 for $25.
Volunteers Needed
Help Silver & Black Give Back with in-game fundraisers, merchandise sales and more!
Are you looking for volunteer opportunities this summer? Silver & Black Give Back is currently looking for volunteers for the upcoming Silver Stars season! Volunteer opportunities include assisting with in-game fundraisers like t-shirt sales and helping with the Silver & Black Shootout during every Silver Stars home game. The Shootout is a free throw contest where fans try and make 8 free throws in 24 seconds for a chance to win cool Silver Stars prizes.

If you or someone you know would like to volunteer with us, please click here to sign up.
Cheers to 25 Years
Silver and Black Give Back is excited to celebrate our 25th anniversary with you! We are honored and grateful to everyone who has participated in our programs over the last 25 years, and we are especially grateful to donors - like our Silver Circle partners - who continue to invest in our youth sports and youth service initiatives.
Click here
to learn more about the impact your are having.