Mark Your Calendar
"Wildlife, Land & Livestock"
January 29, 2011, Fort Worth Stock Show & Rodeo (TWA seminars; complimentary grounds admission passes)
TWA Boots on the Ground
February 14-15, 2011, AT&T Center, Austin
Texas Big Game Awards
February 15, 2011, entry deadline
WildLife 2011
July 7-10, 2011, JW Marriott San Antonio Hill Country Resort and Spa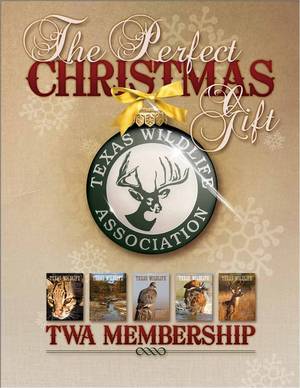 Celebrate Christmas this year with the perfect Christmas gift -- a Texas Wildlife Association membership for a relative, colleague, or friend.
Click here for the TWA Christmas Gift Membership Form. To ensure the gift's delivery by Christmas, please fax or email the completed form to the TWA office by December 20.
Dozens of TWA members utilize a gift membership each year to introduce others to their organization. Thank you for your support and interest and sharing the holiday spirit!
TWA welcomes new members!
Terry Kane, Harlingen
Tony Koesema, Evant
Terry Lutrick, Manchaca
Art Masso, Harlingen
Michael Maynard, McAllen
Shaun McConathy, Georgetown
Gary C. Meade, Harlingen
Kymberly Meade, Harlingen
Scott Meade, Harlingen
Gary D. Meade, Spring
Randy Merrill, Pharr
Tom Moore, Lohn
Gene Moore, Mingus
Danny Morgan, Tulia
Brandon Nors, Burleson
Jason O'Brian, Spring
Stacy Pauly, Lometa
Jack Penn, Harlingen
Brandon Pfannenstiel, Midland
Robert Rabroker, Dallas
Jessica Reeves, Magnolia
Daniel Santos, McAllen
Eddie Santos, McAllen
Paul Schwab, McAllen
Steven Shamlian, Harlingen
Jesse Shed, Brady
Rex A. Shelton, Lometa
Clois Shorter, Flomot
Israel Silva, Edinburg
Roger Solis, Mission
Juan Solis, Amarillo
Lincoln Talbert, Mission
Rodney A. Talbert, Crawford
Edgar Villarreal, Mission
Herbert Watts, Victoria
Robert Weston, Clovis, NM
WiltonWise, Haskell
RogerWolf, McCamey
Jones Alto Colorado Ranch, Brownsville
White Ankle Charters, Harlingen